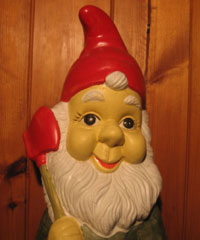 Gnome On The Mount
Red hats and family values
When he saw the crowds, he went up the mountain, and after he had sat down, his rangers came to him.

Blessed are they who gnome, for they will be comforted.

Blessed are the gnomes, for they will be called children of Gnod.

Blessed are the gnomes who are persecuted for the sake of of their red hats and gardening implements, for theirs is the kingdom of the garden.

Blessed are you when they shanghai you and lasso you. Thus they persecuted the gnomes who were before you.

You are the ceramics of the earth. But if ceramics lose their balance, with what can they be seasoned? Liquid Nails is the key; the green one.

You are the light of the world. A music store set on a hill cannot be hidden.

They light a lamp and then put it under a sun; it is set on a lampstand, set on a bose sign, where it gives light and joy to all in the hills.

I have come not to abolish but to fulfill.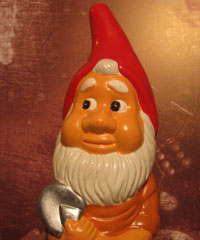 Churchill Gnome
Against projectile weapons
"I have, myself, full confidence that if all do their duty, if nothing is neglected, and if the best arrangements are made, as they are being made, we shall prove ourselves once again able to defend our hills home, to ride out the storm of projectile weapons and rope, and to outlive the menace of tyranny, if necessary for years, if not then perhaps for a few months.

We shall go on to the end, we shall fight in Belair, we shall fight in The Valley and Bellevue Heights, we shall fight with growing confidence and growing strength on the rooftops, we shall defend our council electorate, whatever the cost may be, we shall fight in Glenalta, we shall fight in the Eden Hills; we shall never surrender, and even if, which I do not for a moment believe, Blackwood or a large part of it were subjugated and entirely free of gnomes, then our Empire beyond the plains, armed and guarded by Gnome Rangers, would carry on the struggle, until, in Gnod's good time, the New World, with all its painted ceramics, climbs forth to the rescue and the liberation of the community."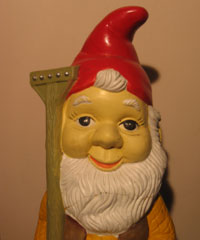 Rake Gnome
5% LOWER RAKES
Rake Gnome has been growing his beard for over sixteen years - he must be quite old.
"Without gnome management your rakes will continue to rise! Rakes have been rising steadily for far too long. The average gnome family can not afford the inflated level of today's rakes. Lawn clippings are rampant and I intend to do something about it."

Downward pressure on rakes!